Who is Sophie Le Brozec?
"When I was 15 years old, growing up in England, all I could see around me was such injustice. Margaret Thatcher had just left the office of Prime Minister and I decided that I would be the next female British Prime Minister, so that I could right all the wrongs I was seeing, and help people to be happier."
Who is Sophie Le Brozec?
In an online world where we don't really know who anyone is, this is who I am, what I stand for, and what you can expect from me. This is Sophie Le Brozec.
I'm a Brit, recently separated from my French husband and mum to two French/English daughters.
I have been living in Mauritius (a tropical island in the Indian Ocean in Africa) since October 2015; before that I lived in London for nearly 5 years, and the 12 years before that were spent on the French Riviera (in the Nice area).
Our family is bilingual and bicultural.
As a child I was petrified of dogs and, as I slowly overcame my fears as an adult, I vowed that my kids would grow up with a dog so they wouldn't have this same handicap.
Shortly after we arrived in Mauritius we rescued 2 street puppies (they were only 5 weeks old and had been abandoned by the side of the road), since then we have added 3-4 rescue street cats to the family. I say 3-4 because one of them disappeared for 5 months and only shows up every now and then for food.
Me with one of our 5 week old rescued street puppies, who is now a whopping 22kg big dog!
Teen dreams that came true in my 40s
When I was 15 years old, growing up in England, all I could see around me was such injustice. Margaret Thatcher had just left the office of Prime Minister and I decided that I would be the next female British Prime Minister, so that I could right all the wrongs I was seeing, and help people to be happier.
I quickly saw that politics was far too much of an ugly game for me, and chose to pursue my love of languages, deciding that the right role for me would show up, at the right time.
It took a while.
I graduated from university with a degree in French and Spanish and moved from the UK to France, where I had numerous different jobs, none of which seemed to help me help others be happy.
In 2005 I started my personal development and business journey, and I devoured information on these subjects.
Finally, after moving to Mauritius on the eve of my 40th birthday, I started to have a vague idea of what I could do.
The idea stayed at the edge of my consciousness until one day in early 2018 I went for a walk in the local forest.
This particular place is rumoured to be very spiritual, with all sorts of woo-woo happening there.
Well I came home with a fully-formed concept in my head, that I couldn't write down fast enough.
My concept had a name - Life Reboot Camp - and it would be an online programme for women worldwide. I had the full 6 modules in my head, spilling out as I typed furiously away.
It was going to help women all over the world in their personal and professional life.
It would help them to deal with overwhelm, burnout, indecision and to find happiness. To deal with issues of self-esteem, relationship problems, struggles with parenting, career indecision and so much more.
For the first time in nearly 30 years, since giving up my Prime Minister dream, I finally felt like I was on the right track for helping others, and for doing something to fight injustice.
Life Reboot Camp launched in February 2018 and since then has helped women on 5 different continents, from every walk of life.
Over the years the women in my Life Reboot Camp have changed their lives, and mine. Many of them have become friends, and I feel like they are my family.
Some of the women from my 2019 Life Reboot Camp UK retreat, holding my book
"How to be happy (no matter what sh!t life throws at you!)"
Giving back
But I wanted to do more.
So I decided that for every Life Reboot Camp space sold, I would gift a slot to a woman who needed it but couldn't afford it (Buy 1, Gift 1). With priority going to women of colour.
But I wanted to do even more.
Having saved myself from an abusive relationship in my 20s I decided to offer Life Reboot Camp for free to any woman who was trying to leave, or who had recently left an abusive relationship.
But I wanted to do even more.
I decided that part of my profits would always go to charity, and I donated to those close to my heart, such as Glennon Doyle's Together Rising and charity: water.
Since launching Life Reboot Camp I have written a book, various guides and created a programme for people wanting help with their finances (also on a Buy 1, Gift 1 basis), along with numerous free resources.
My aim used to be to help 10,000 women worldwide to find their happy every year.
From January 2023 I'm ramping that up to help the same number but monthly. Through my free and paid resources.
If you would like to find out more about my Buy 1, Gift 1 offer simply email [email protected]
You can find all my free and paid resources here
(My most popular freebie is a simple cheat sheet to kill overwhelm)
My values, religious beliefs & what I stand for
I suppose a blog post about me should also include my values and what I believe in, so here goes.
I was raised Anglican (Church of England, Protestant) and until I was about 16 I used to go to church every Sunday.
I sang in the church choir and I went to a Church of England secondary school.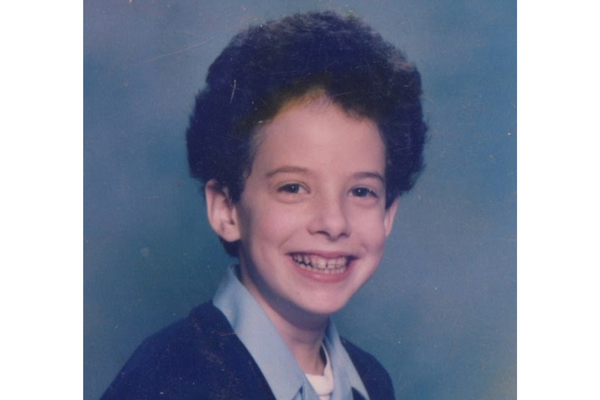 Me, aged about 11
In 2001 I met my husband who proclaimed himself to be an atheist. I was shocked!
Then I started to question religion, to read, to listen, to learn. And in 2009 I started on the path that I'm on today where I consider myself to be a spiritual atheist.
I believe in a higher power, but not a man-like figure, with a white beard, sitting on a throne. I'm also very into woo-woo these days, and things that just can't be explained.
Living in a diverse city like London, and then moving to a country like Mauritius which has numerous official religions, I am fascinated by religions and very respectful of them and those who worship them.
The Christian values I grew up with remain strong, especially the principles of treating others as you wish to be treated yourself, and helping those in need.
Having said all that I am very sweary so brace yourself if you are sensitive to this kind of thing!
When I share - here on the blog, on social media, in my email newsletters, in my free and paid products - I am honest and don't hold back. I reveal things about me that most people tend to hide, I am an over-sharer and find that it helps me process my shit, and helps others feel less alone too.
Am I a hippy?
In October 2019 I decided to try veganism for a month for various reasons, and I haven't looked back since. I now eat a mostly whole food, plant-based diet and have never felt better. I was vegetarian in my early teens and have never felt comfortable eating meat.
I like to think I don't force those beliefs on others, but for me it is what feels right, for several reasons.
I'm a big questioner, and in 2018 I started using doTerra essential oils for my family's physical and emotional health and now I'm a huge convert.
In 2021 I started to question schools and education as we know it, and our daughters are now home educated, which is the most fun and the most hard work I've ever known.
I know I sound like a right tree-hugging hippie, and whilst I don't view myself as that, maybe I am... (I certainly love a walk in forests!)
I strongly believe in showing kindness to others, helping where I can, giving back, trying to avoid judgement and instead employing forgiveness.
Anti-racism
I started doing anti-racism work in 2020, and it's an ongoing journey, with so much still to learn and do. I know this is an education that I will be following for life.
As a white, middle-class, English woman, who lives in a white minority in a former British colony, I know there is so much work to do, and I know that I have a voice and a platform to do this.
So I'm learning. I'm making mistakes, and I'm doing the best I can at any given time.
Please do call me in when I screw up (as I know I will), and when you see how I can do better. I am open to criticism as I know that is the only way we learn, by being corrected.
And if you know of ways I can carry on this journey as a white English woman living in Mauritius then please do contact me.
I am far from perfect, and am constantly learning and working to improve myself. As much as possible I show up as the real me, warts and all, and hopefully my honesty will help others.
If you read this far, congratulations!
If you have any questions, fire away 🙂
I'd love to get to know you better and have you join my mailing list, where I share all sorts of tips and tricks, plus the more private things that I don't show online.
Thank you for reading and welcome to my world.
Big love,
Sophie xx
P.S. if you want to be happy but feel overwhelmed with what I offer, simply drop me a message with your biggest struggles and I'll point you in the right direction.